#1 Timber Decking Builders in Sydney
Austek Home Improvements is one of the leading companies building and installing decks in Sydney, Australia. All Austek Home Improvements timber decks are built with the highest craftsmanship in mind and the best materials available. There is no better way to relax than by watching the sun go down on your beautifully crafted Austek Home Improvements timber deck.
Our deck builders in Sydney are renowned for their care and attention to detail, from inspecting the location you wish the deck to be installed, to guiding you in choosing materials, design, construction and installation.
Austek Home Improvements deck utilise unused space and combined with an Austek pergola, you will have all round enjoyment and comfort. Austek Home Improvements build the strongest decks in Sydney with either traditional pine or hardwood joists or fully galvanised bearers and joists for a lifetime of maintenance free entertaining company. We are well versed with the deck construction tips that speed up the job, increase deck durability and improve quality at a low cost.
In this regard, our decking company is second to none in Sydney. We've built high-quality deck flooring for suburbs such as Baulkham Hills, Blacktown, Camden, Castle Hill, Dural, Epping, Hornsby, Kellyville, Liverpool, Northern Beaches, Penrith, and the Sutherland Shire.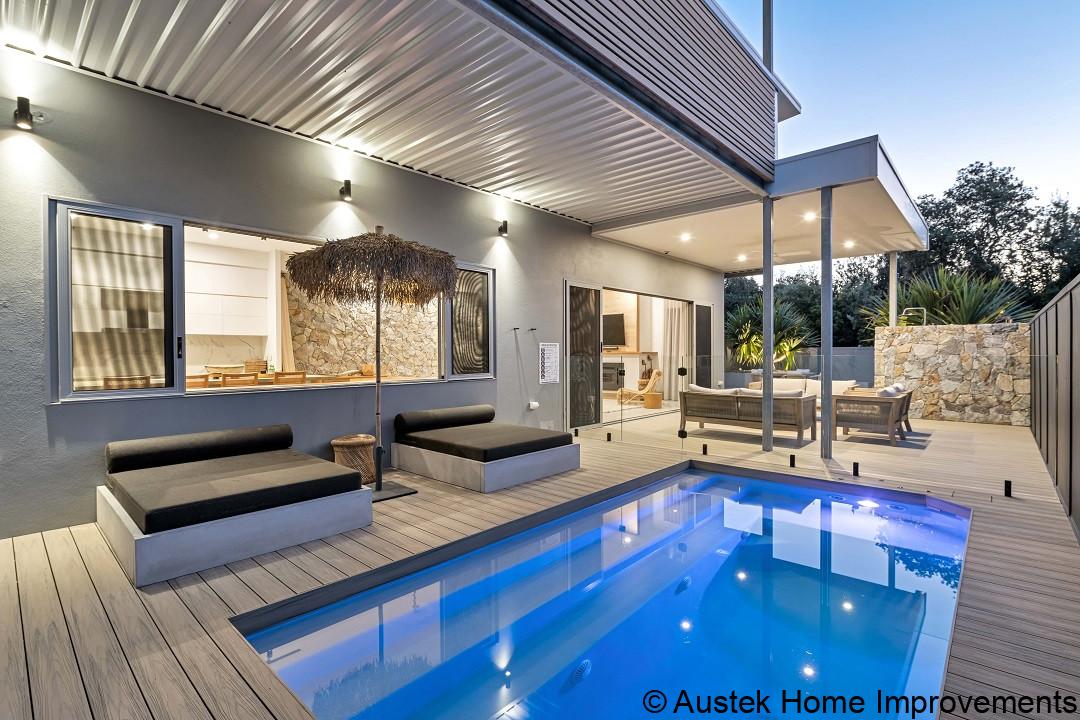 A Marvellous Range of Timber | Austek Timber Decking
Austek Home Improvements offers the largest range of outdoor decking boards and deck construction in Sydney from traditional pine, merbau, all Australian hardwoods to composite outdoor decking from all the leading manufacturers right across Australia or even tile option for bush fire zones.
Our deck installers are experts and know what to look out for in constructing and fitting in a new deck in Sydney. They will be able to properly guide you through the process and give you the right suggestions to have the best enjoyment, convenience and long life out of your deck.While softwood isn't as hardy or durable, they become more resilient when treated and sealed.
The Many Benefits of a Timber Patio
Softer Cushioning – Unlike a stone, paved or concrete patio, timber is a softer surface. Giving you more of a bounce back when you walk.
Elevated View – Patio decking can be made close to the ground or at an elevated height, to give you a great place to enjoy gazing out a beautiful vista. It's a great investment for properties built on a slope, for a wide view of the ocean, greenery, or over your neighbourhood.
Durability – Native hardwood timber is strong, robust, and durable. Which means you can long forward to enjoying your patio deck for decades to come.
Level Surface – Decking is a versatile tool; in that it can quickly create an even and flat surface from sloped terrain. It's one of the increasing reasons we are seeing a rise of timber patios in new and renovated properties and homes.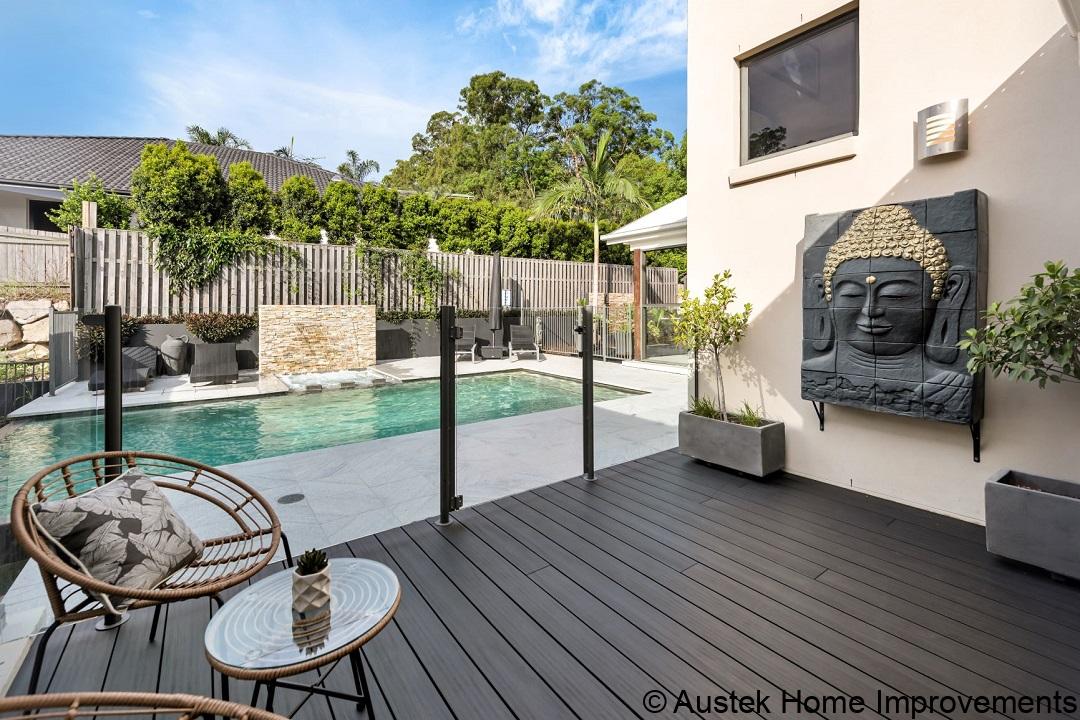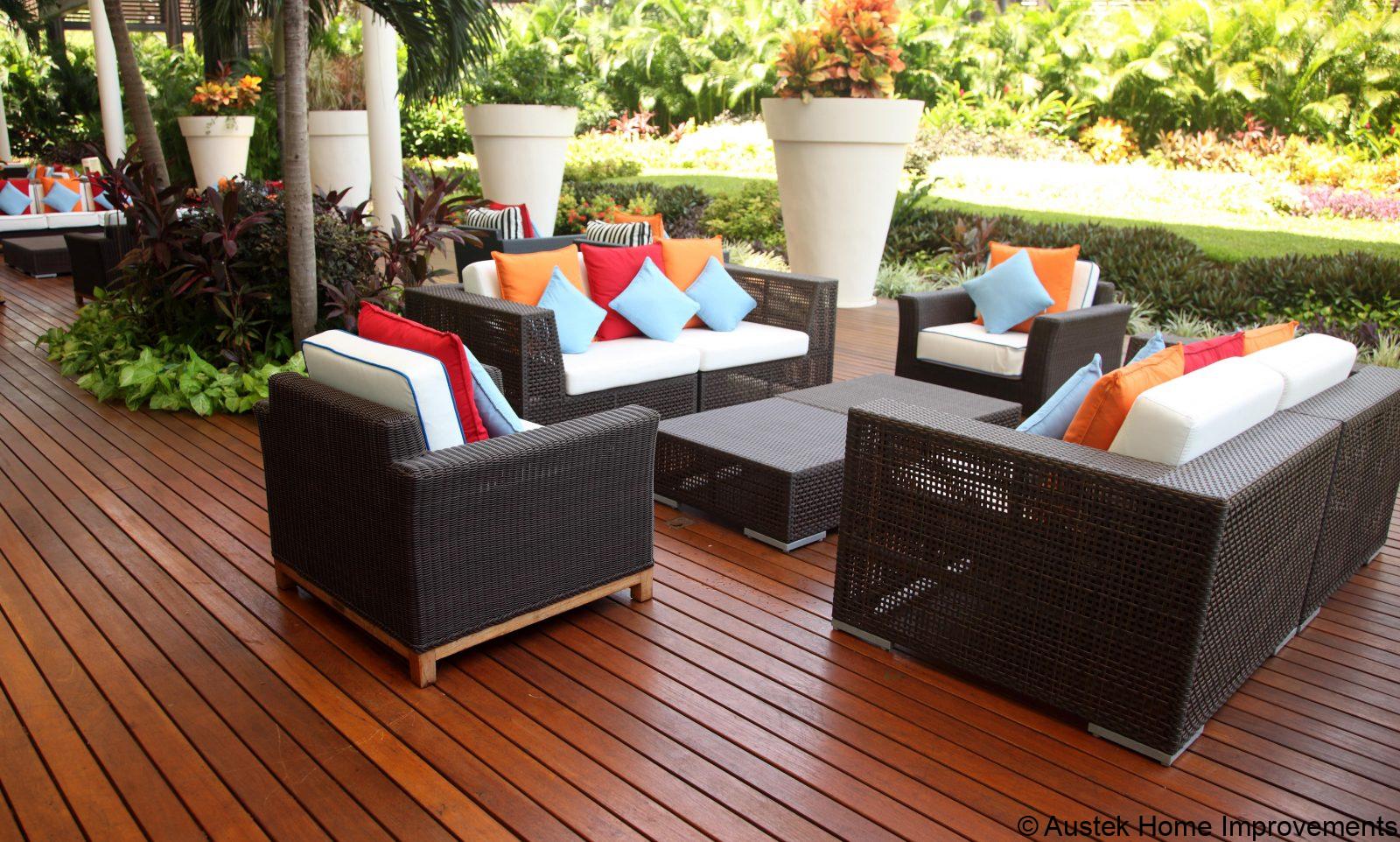 Versatile Design – Decking for a patio doesn't have to just stop there. Our builders can work with you to create a unique custom design for your outdoor spaces, with decked walkways or decking surrounds for a spa, pool, or pond. There's just so much that can be done with it, and our builders can show you how!
A Natural Aesthetic – There's almost nothing more lovely and refreshing now then timber. The look of wood has only steadily increased in popularity, with a growing demand for naturally finished timber in chairs, tables, cabinets, cladding and more. Adding more timber to your home design helps usher in a sense of Zen to your patio. To assist you in slowing down and taking a moment to reset.
Beautiful Warm Tones – Timber patios are available in a range of different warm woodsy tones that make your outdoors spaces appear even more cosy. It's the perfect accompaniment to a place with trees, or for your dutiful BBQ setup.
Austek Home Improvements was started to give customers a more personalised yet professional service and has been supplying and installing quality home improvements for 30 years.
Do you have to pay for a quote?
No, Austek is proud to quote on your job and offer free no obligation quotes.
Do you need council permit or planning approval for my project?
Depends many minor projects may not require council approval and planning permits because they come under exempt developments section" in the law, however, they need to comply with specific guidelines though, anything outside this will require a Council permit and planning approvals. Our certified staff will arrange all the required paperwork right through to the final inspection.
Where can I get more information about planning?
You can go online to the NSW Government planning & environment webpage
Where do you source your premium materials from?
We source our premium materials from trusted manufacturers who back their products with Manufacturers warranties and we use only Premium Australian Material.
When can you start the project?
If planning permit required, the drafting and application process can take roughly 2-3 weeks and council permits are a bit longer from 6-8 weeks to assess the application and make a decision.
Can we build a deck on a property that is prone to Bushfires?
Yes. Bushfire prone properties are to be assessed for their Bushfire Attack Level (BAL). This BAL is what determines the types of premium materials that can be used for the building project so that it complies with the relevant Australian Standards (AS).
What are the warranties available?
Under the Home Building Act is a list of statutory warranties all our building and renovation work are covered by. We source our materials from trusted manufacturers who back their products with Manufacturers warranties and comply to Australian Standards.