Best Quality Custom Carports In Sydney
Quality carports you can afford
We, at Austek Home Improvements, one of the leading carport installers, offer carports products, design, and installation expertise which are well known in the building industry and located near you.
Carports can bring great value to your property for several reasons, such as shelter, entertaining, security and storage. They help protect your car from sun, rain, wind and snow. Installed with a remote-controlled door, they also add extra security to your car by providing a barrier to interrupt theft and vandalism.
When looking for the best carport builder, there are several variables that need to be considered. One of those is experience. We are the first choice among all carport builders for homeowners in Sydney as we have years of experience in this field.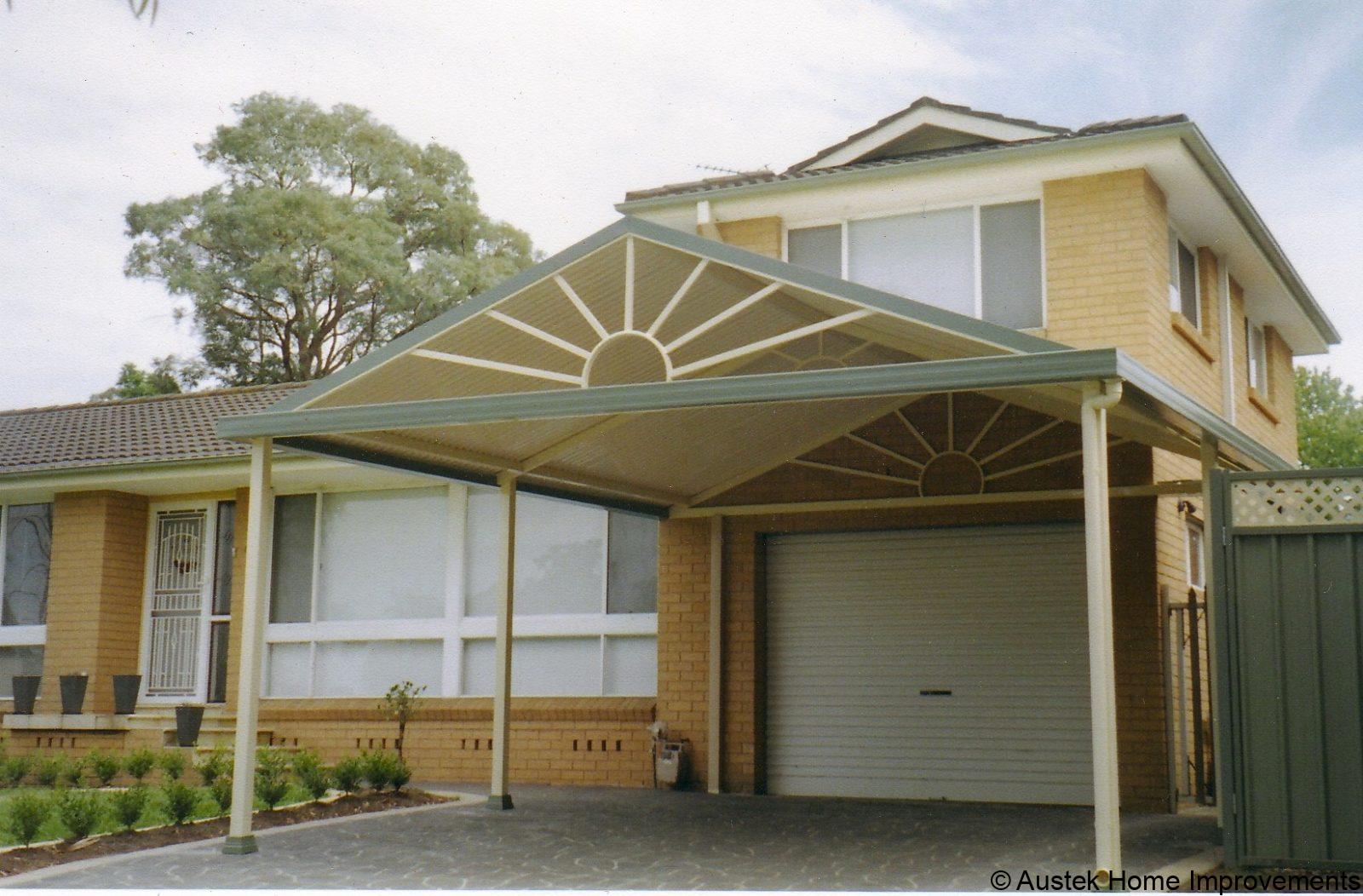 Quality Custom Carports in Sydney | The Austek Difference
All Austek Home Improvements carports are made from Australian Bluescope steel. We also use colorbond paints. We can also use timber to emphasise and add character to a build. Each one is built specifically to complement each individual home. With all-year-round protection for your car, from rain, hail, and sun, Austek Home Improvements carports are the only choice.
Always keeping our clients in mind, we work tirelessly to design, create and construct carports that they love. We work with you to create a carport that works with your house's exterior style and compliments your property. We're able to do this with our resources, colour and style options and well-earned expertise.
Customise Carports to your style | Carport Roofing Options
Flat – A very versatile style that works with a lot of old and newer houses. This style provides a clean minimalist finish for any application. On top of steel, flat roofs also open up more options; you can choose to go for an insulated roofing panel or a polycarbonate roofing which adds light to the space and looks very contemporary.
Gable – One of the most popular styles of carports, gable roofing consists of two roofs that are diagonally slanted and meet at the middle. They can have a perpendicular wall on their faces like a triangular prism or be completely hollow in this area.
Dutch Gable – The Dutch gable style has similarities to both gable roofing and hip roofing. Visually it looks like the top half of a triangular prism has been placed on top of the bottom half of a hip roof. Its artistic style is perfect for entertaining.
Hip – All sides of a hip roof slope towards the middle. This is another common roofing style that will work with properties that also share this type of roofing style.
Dome – A new roofing profile with great contemporary style that looks like a rounded curve surface. Dome roofing is very popular in polycarbonate, which is a material that looks a lot like glass but is more effective at blocking UV and insulating while providing light. The curved structure also allows rain to run right off.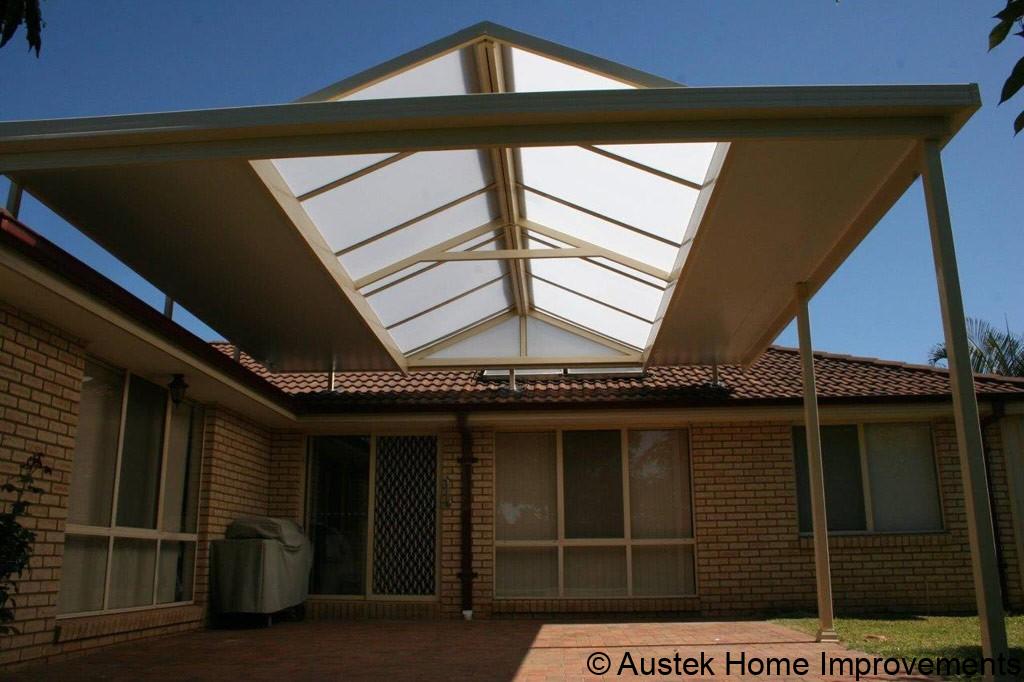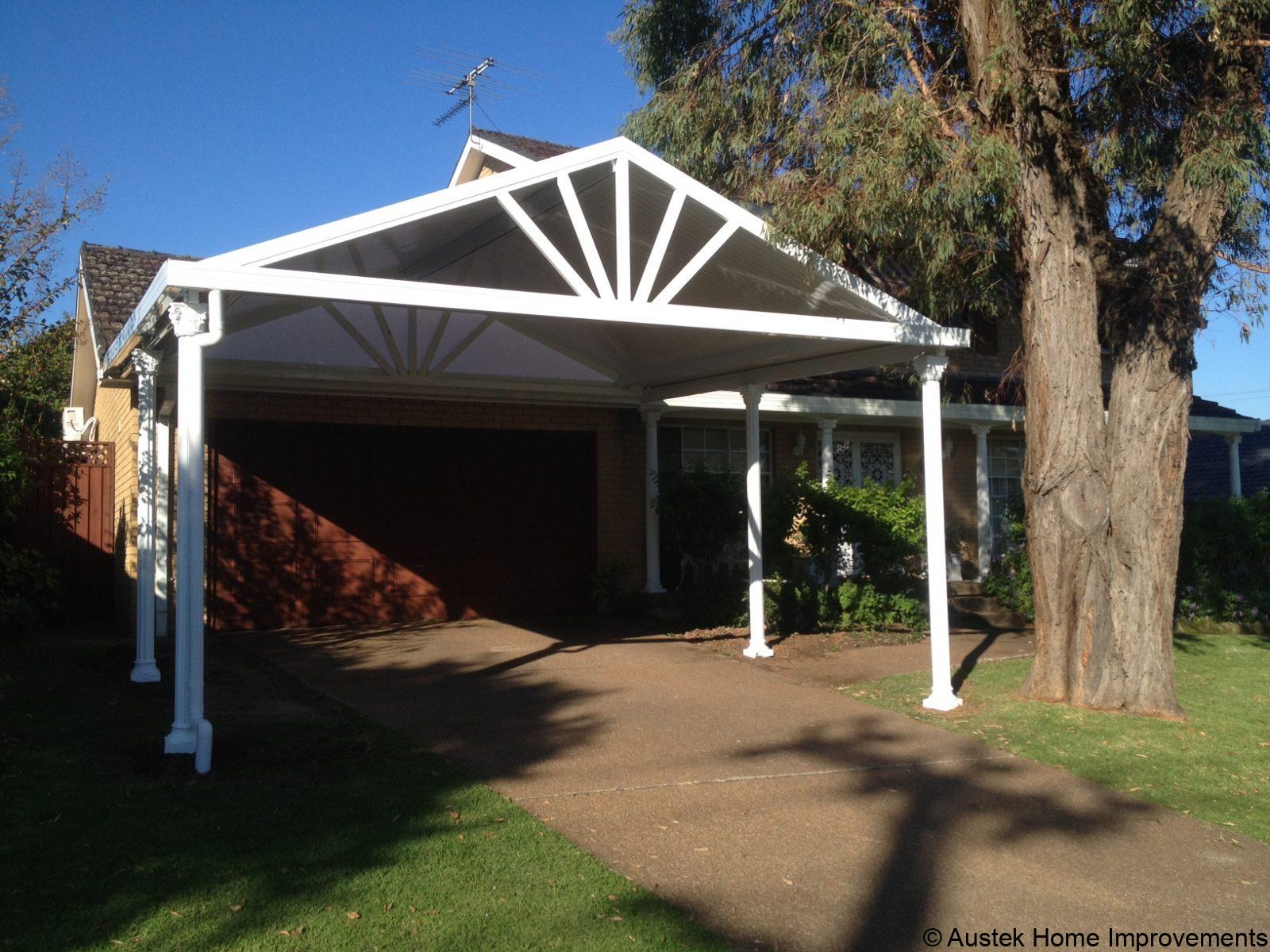 Valuable investment into your property | Prime protection and aesthetic
Carports make a valuable investment for your car and house that is more affordable than a garage. On top of sheltering your car from harsh weather and bird droppings, a carport also allows you to enter and exit your car without getting wet. By also adding a remote-controlled gate to your carport you can give extra protection to your car, your backyard and house from theft or intrusion.
Austek Home Improvements being the best carport builder takes pride in every detail, from design, council approval to final clean up. We are among the most trusted carport installers in Sydney. Please contact us to arrange your free quote. We have built some off the best carports in Castle Hill and Penrith.
Austek Home Improvements was started to give customers a more personalised yet professional service and has been supplying and installing quality home improvements for 30 years.
Do you have to pay for a quote?
No, Austek is proud to quote on your job and offer free no obligation quotes
Do you need council permit or planning approval for my project?
Depends many minor projects may not require council approval and planning permits because they come under exempt developments section" in the law, however, they need to comply with specific guidelines though, anything outside this will require a Council permit and planning approvals. Our certified staff will arrange all the required paperwork right through to the final inspection.
What design of patio, carport or extension are available?
You can choose the desired carports in Sydney as per your house interiors. There are ample of design options available for carports. Select the one which compliments the overall appearance of the house, and give it a distinct look.
How wide can a carport be?
The width of carports in Sydney depends upon the number of cars you want to cover. A single carport cover is of around 12ft by 20ft. You can choose a wider carport cover to over two or three cars.
Will a Carport add value to my property?
Yes, carports in Sydney are a great value addition to your property. It will recoup great ROI in future. Carports not only enhance the aesthetic appearance of the house but also have great utility value too.
How much does it cost to build a carport in Australia?
A DIY carport kit costs around $1000 at the low-quality end and $5000 for the nicer models.
Custom carports usually cost more. It roughly costs an average of $10,000 for a single spot carport and $20,000 for a double carport. Talk to our carport builders for more information. We can discuss exactly the carport you are after and give you a quote based on that, absolutely free. 
Who is the best builder to build a carport in Sydney?
Austek Home Improvements are one of the best carport builders in Sydney, with 30 years of experience in this regard. You can trust us to construct a durable and stylish carport for your home, from bottom up. For a better idea of what our team has worked on, browse our gallery below: https://www.austekhomeimprovements.com.au/gallery/
Can I put a roller door on my carport?
Yes, putting a roller door on your carport is a cost effective and aesthetically pleasing way of keeping your car secure and out of sight. Contact carport builders in Sydney for more information. Most are able to also provide this service when constructing and installing your new carport. Our carport builders at Austek Home Improvements are well experienced and knowledgeable in this regard.