Pergola Roofing In Sydney
When you have been looking for a moment to get away, why not step outside instead? Our pergola builders can assist you in creating pergola roofing for your outdoors, for an alfresco space to unwind and refresh. We are committed to empowering your vision of your outdoor entertaining space. With over 30 years of building and installing pergolas for the wider Sydney community, you too can rest assured in our pergola builders' skills, expertise, and knowledge.
We will transform tired and undefined backyards into an entertaining area within the fresh outdoors. To bring you even closer to your plants and greenery, and to the other incredible things there are to see outside your backyard.
There are so many incredible designs that you can accomplish with pergola roofing, to create something special. It's a great way to add value to a property, as an investment that will surely pay for itself!
Choose from pergolas in timber, aluminium, Colorbond steel, insulated roof panels or polycarbonate roofing.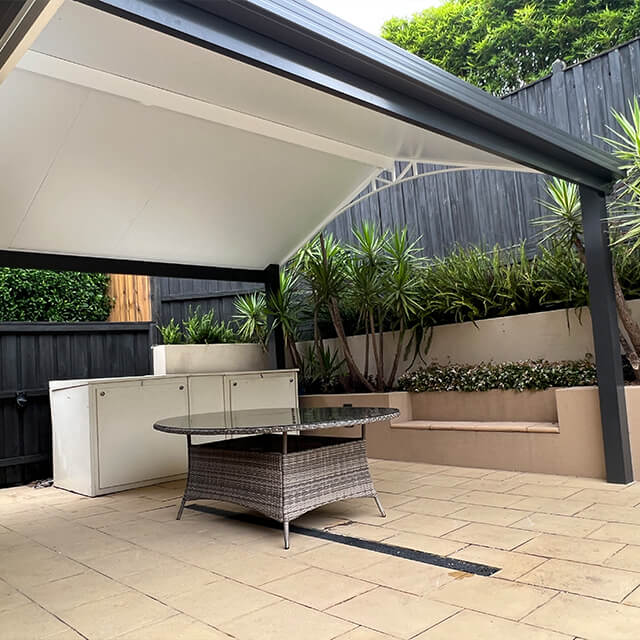 Insulated Pergolas in Sydney?
On a Saturday afternoon, what's better than spending some time outdoors kicking the ball around or taking a dip in the pool before coming around an outdoor table for some salivating and aromatic BBQ?
Make the best out of your outdoor space with an insulated pergola to keep your family and guests comfortable in Sydney. It makes the perfect place to store some cushions and lounges, a table and even a fireplace.
At Austek Home Improvements we have supplied many clients throughout the years with insulated pergolas, in Sydney. Pergolas and awnings add charm and beauty to any environment, due to advancements in technology no longer do you have to look at unsightly brackets, inserts or softly rolled aluminium. Instead, insulated pergolas can be a sight of reassuring and tranquil calm with smooth plain white ceilings, roofing tiles that match that of your house and strong posts with their own distinct character.
Many homeowners in Sydney are investing in items that can add equity to their current portfolios, insulated pergola is a perfect item to enhance and uplift any outdoor area. A pergola adds an additional usable space for the inhabitants of the house to enjoy. An insulated pergola further helps those that use the space to stay comfortable; keeping guests dry, and shaded, maintaining a moderate temperature and reducing the sound of wind and rain. A stylish and comfortable pergola on property won't soon be forgotten amongst buyers, even as they browse through numerous listings on the Sydney market.
How far you want to go with the features, look and feel of the place is up to you. You can add retaining walls or fencing to further enclose the area to make it feel intimate or like another area in your house. A retaining wall will also allow you to decorate the area with lovely ferns or flowers. You could also add blinds, fly screen blinds or a louvered side wall for some more shade from angled sunlight.
Dedicated to Your Home Outdoors
We are all about making the good times spent with friends and family even more special. And the quiet times more refreshing. To give everyone the best chance to come up for air.
As a family-owned company, we know how much of an impact your home can have on your family's day to day. If you have a design in mind for your home's pergola, call us on 1300 765 985 to get a free quote to get started.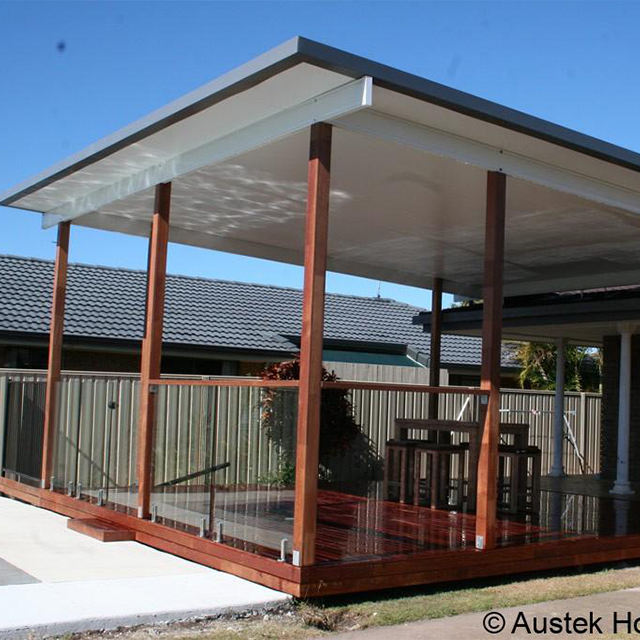 Austek Home Improvements was started to give customers a more personalised yet professional service and has been supplying and installing quality home improvements for 30 years.
Do you have to pay for a quote?
No, Austek is proud to quote on your job and offer free no obligation quotes.
Do you need council permit or planning approval for my project?
Depends many minor projects may not require council approval and planning permits because they come under exempt developments section" in the law, however, they need to comply with specific guidelines though, anything outside this will require a Council permit and planning approvals. Our certified staff will arrange all the required paperwork right through to the final inspection.
Does a patio or pergola add value to a property?
Yes, it will add significant value to your property, quality of materials and Austek in house design always complement any property.
Can I get a patio or pergola attached to my home?
Yes, you can have a patio or pergola attached to your house, our certified builders can advise you of the best solution for your home. We have a range of different options available each can be tailored to meet your individual needs and requirements.
Are there different styles available for patios or pergola?
At Austek we have a large range of designs and styles, we can custom make patio or pergola to suit your lifestyle and enhance your entertainment area. We have flat roof units, gables, retractable to let sun in and keep rain out. Call today to make an appointment and we can go through these options with you.
Do you need permission for a pergola?
As with all major home improvements, it is important that you seek this information with the local council of your area. You can look up their guidelines and find out if you need approval to implement this change as well as how to apply online. Pergolas in Sydney adds additional roofing to your land. It is important to make sure you get the right advice and approval from your council to not only make sure that you don't have to pull it down later or pay fines, but to ensure proper fire safety and etiquette towards your neighbours.
Is it cheaper to buy or build a pergola?
Building your own pergola is cheaper than getting a pergola kit or having professionals taking care of this task. However, this is considering that you know what you are doing, your work and what materials you use. While building your own pergola sounds like an exciting venture, you're also on your own. You don't have access to customer service or specialists to help you out if you are facing any problems with your pergola in Sydney. At Austek Home Improvements, you can leave the approval process to us. We well understand the processes and procedures towards getting approval on domestic and commercial pergolas in Sydney.