Sutherland's Number One Pergola Supplier
They say a change is good as a holiday. While this may be more true for some than others, the fact remains that changing our surroundings even momentarily can drastically change our mood and outlook. The proven benefits of spending time outside (Vitamin D and its role in immune boosting and overall mood betterment) mean that while you might be planning a getaway in your head, sometimes merely getting outside can have a similar effect.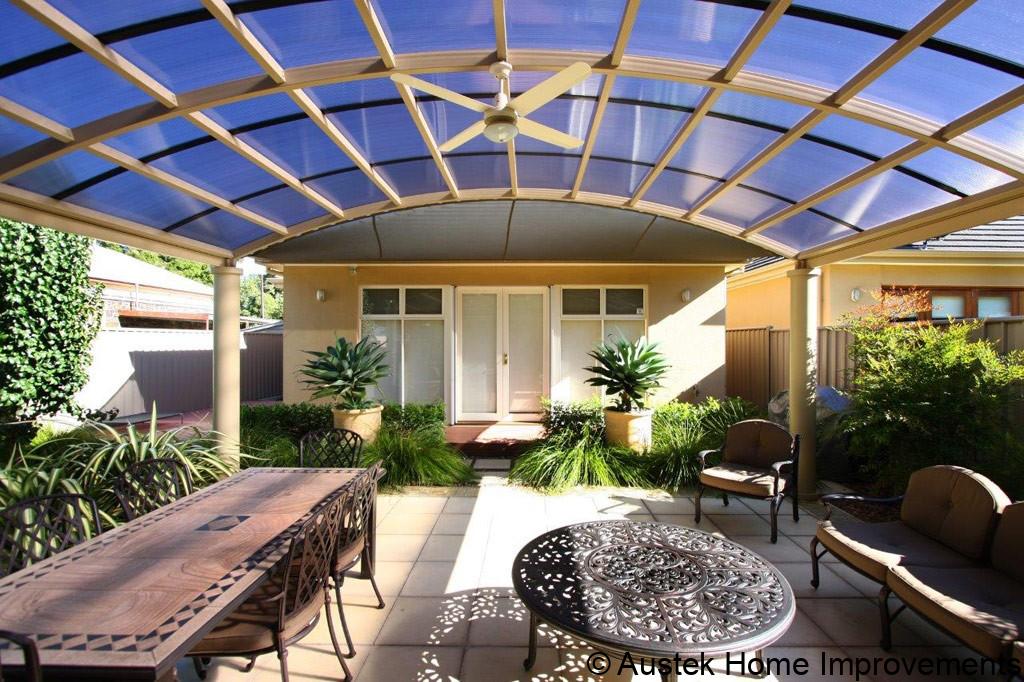 Of course, in the harsh Australian climate, other things must be considered before you can just enjoy an outdoor space. Mainly the Australian sun can cause problems if you're exposed to it for too long. And that's where we come in. If you've been considering the benefits of a pergola in the Sutherland area, then we here at Austek Home Improvements are ready to help you take the idea from your head into reality, hopefully with a minimum of fuss so we can get you enjoying the benefits of your new pergola as soon as possible!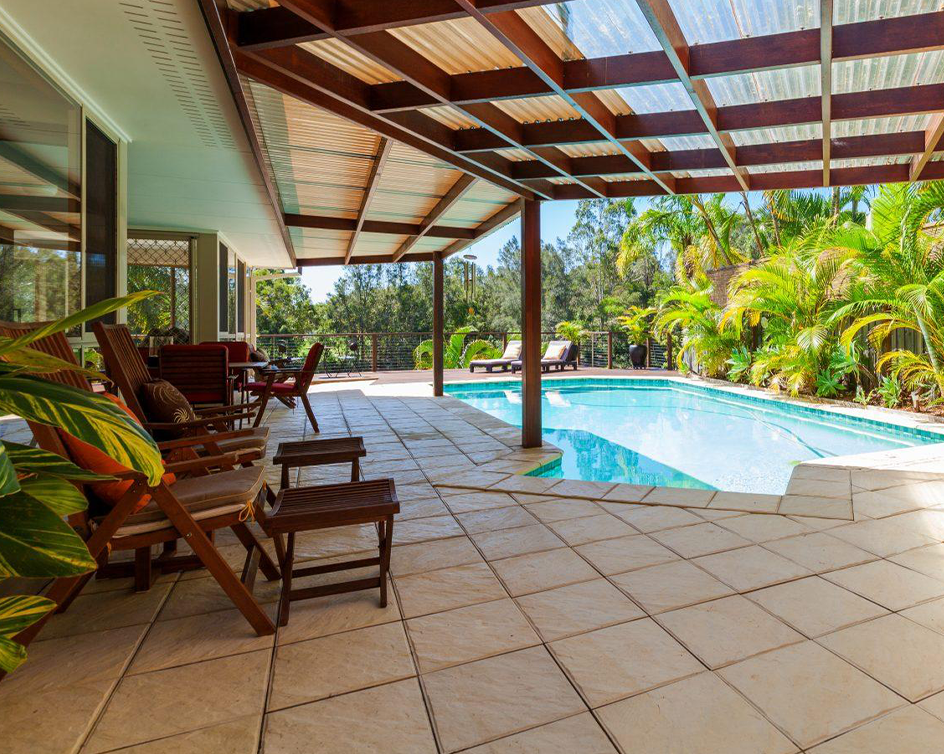 People have all kinds of reasons for erecting a pergola in their backyard. Maybe it's for the aforementioned purpose of just having your own spot to get away from the constant movement and noise of modern life and just take a deep breath and be in your own company for a little while. Maybe it's intended as an outdoor entertaining space, where you can invite family and friends over to enjoy a lovely summer's evening outside with your beverage of choice and some nice food. Whatever the reason, we have the benefits of 30 years of experience in building pergolas for the wider Sydney community, including the Sutherland area. With this considerable experience you can rest assured that our builders have considerable skills, expertise and knowledge, and we'll be able to help you execute the vision for your pergola-covered outdoor space.
When considering an outdoor space, providing some sort of shade/protection from the harsh Australian sun is a necessity. We offer pergolas custom-made to suit a variety of different settings including:
Patios
Porches
Balcony
Decks
Outdoor kitchens
Alfresco dining areas
Gazebos
Sunrooms
Carports
Austek Home Improvements was started to give customers a more personalised yet professional service and has been supplying and installing quality home improvements for 30 years.
We have all kinds of designs for roofing available. From flat roofing to gable style or anything you have in mind, our experienced and dedicated team will be able to walk you through the process step-by-step to make sure what you see as your dream pergola becomes a reality.
With our naturalistic designs, a pergola is a great way to get closer to nature in the Sutherland area. A timber pergola particularly looks the part, and we can work with you and the natural plantlife of the area to make it look like it's part of the existing nature in your space. It can be a design feature of the garden that you can use not only to ward off the harsh sun of the Australian outdoors but also use it to grow vine-type plants.
If you're looking for a more extension-of-the-house aesthetic than it might be worth considering a look at something like an aluminium based pergola. We offer a range of materials for roofing such as Colorbond steel, insulated roof panels or polycarbonate. These modern alternatives to wood can add to the modern aesthetic of your home and make it look like the outdoor and indoor spaces are blended.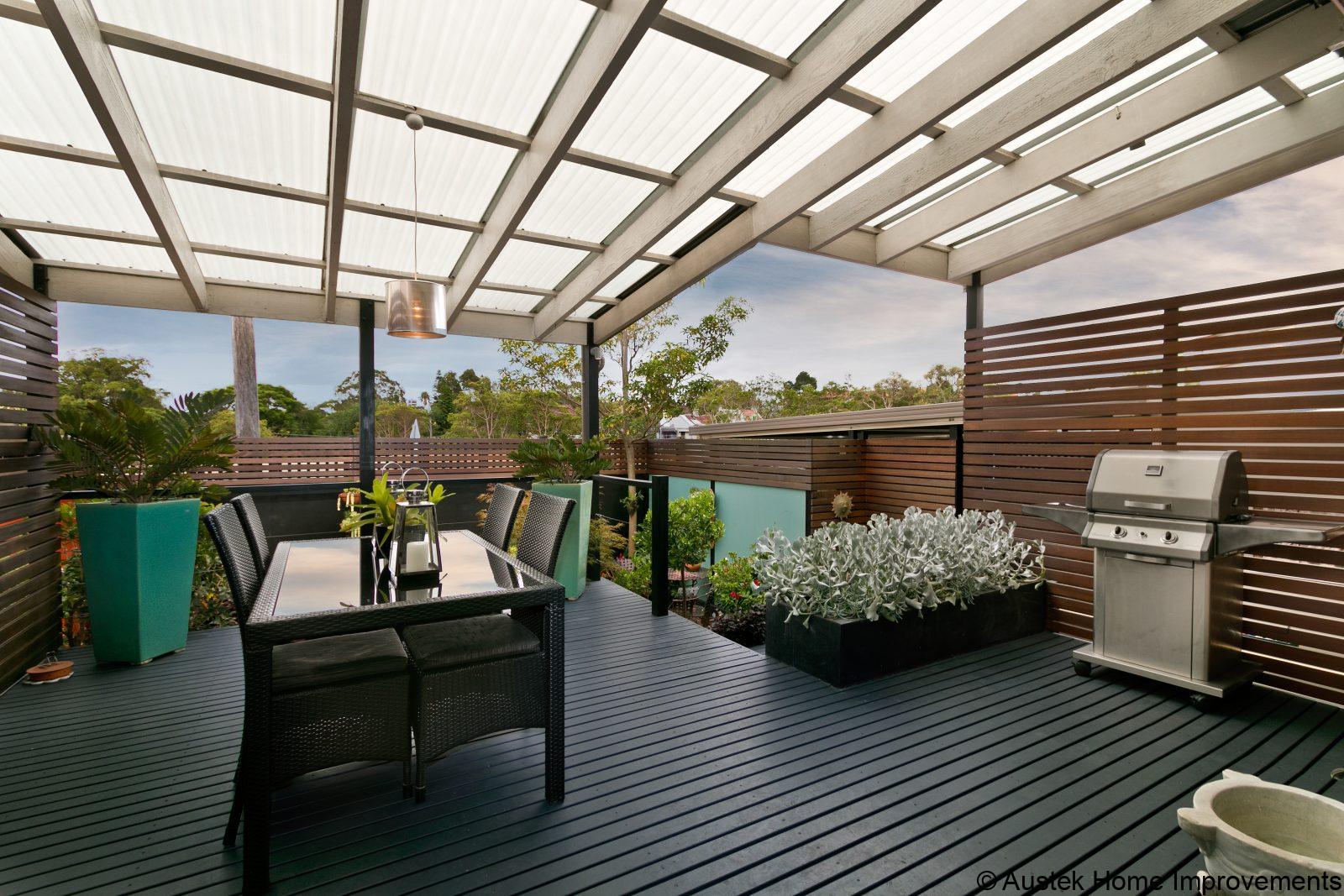 When the weather is prohibitively hot or wet it can mean people will stay inside. However to enjoy the benefits of outdoor living year-round the solution is straightforward: erect a pergola with Austek Home Improvements in the Sutherland area. That way you and your family can harness the benefits of outdoor living year-round rather than let the weather dictate it.
Ultimately a pergola will bring your property in the Sutherland area a boost in functionality, as well as value. Whether you're building for your forever home or perhaps an investment property, Austek can help you with pergolas that are attractive to look at but won't break the bank.