High-Quality Awnings In Sydney
Awnings keep the glare off your window and help you create more comfortable spaces in your property, both inside and out. Our home improvement builders at Austek can create attractive and durable awnings for your house or business. We can look after fulfilling your needs at each stage of the process: from design and planning to building and installation.
We have built beautiful custom awnings for many home and business owners in Bankstown, Liverpool, Castle Hill, Baulkham Hills, Sutherland Shire, Camden, and Penrith.
With over 30 years of experience, we are the experts in Sydney when it comes to creating the additional structures that add value to your property.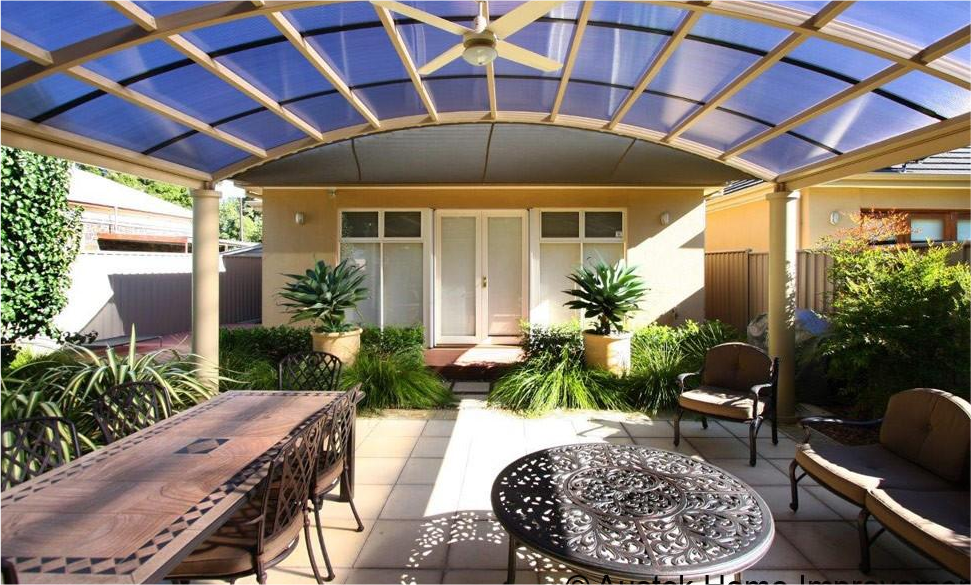 Installing Awnings in Sydney Offers So Many Benefits
Of course, there's so much more that you can look forward to when installing high quality awnings. Whether it is over your porch, patio, or balcony.
Better Insulation –
Choosing awnings made from insulated roof panels allows you to have a cool and comfortable outdoor area in summer. While also providing some warmth to make a nice area to enjoy your gardens with a cup of tea in the winter. Making the outdoors more accessible year-round.
Increased Property Value –
Another reason that so many people in Sydney are installing awnings for their home or business is the increase to their property's value. Our awnings at Austek add a fresh contemporary touch to any home or property. Making the building look more updated and luxurious. Awnings also provide a more sheltered space outdoors, allowing you to put out furniture for a place to unwind.
Extra Space to Access, In Any Weather –
Having awnings gives you a place to relax, talk and to unwind, no matter the weather. As an apt shelter from rain, wind, debris, sun, and hail, you can always have the option to take a moment to step outside. Enjoying time in lush green outdoors has long been proven to offer peace, and thereby, a healthier mind.
Make The Outdoors More Comfortable
Comfort is important when it comes to your home; especially when creating some of the most valuable memories with your family. Your backyard can often be a welcome quiet time of rest, refuge, and stillness. This is why, as more people have been looking to make their homes more comfortable to get ready to work more at home, more time and money is being spent on fixing up their home outdoors.
You can opt to have a patio formed by pavers, natural stone, concrete, bricks, or gravel. Then cover it with your chosen patio awnings to create a space that can always be easily accessed and comfortable. No matter the weather; rain, wind, snow, or shine.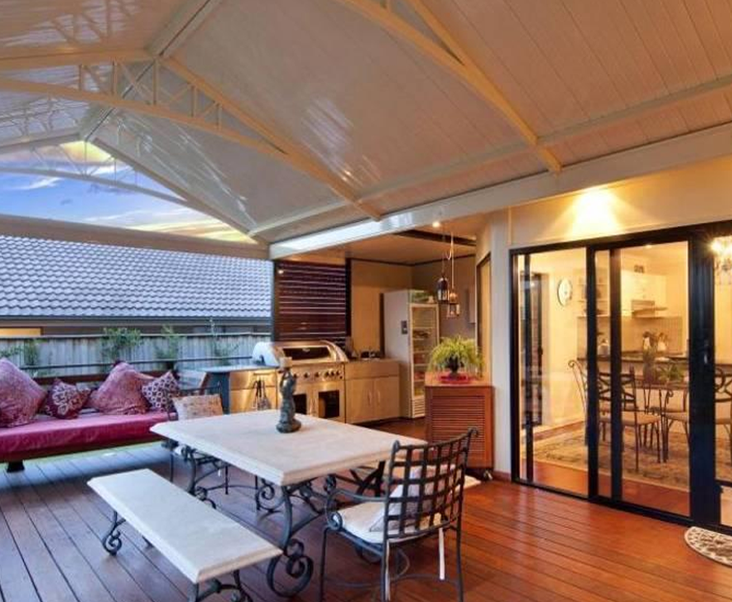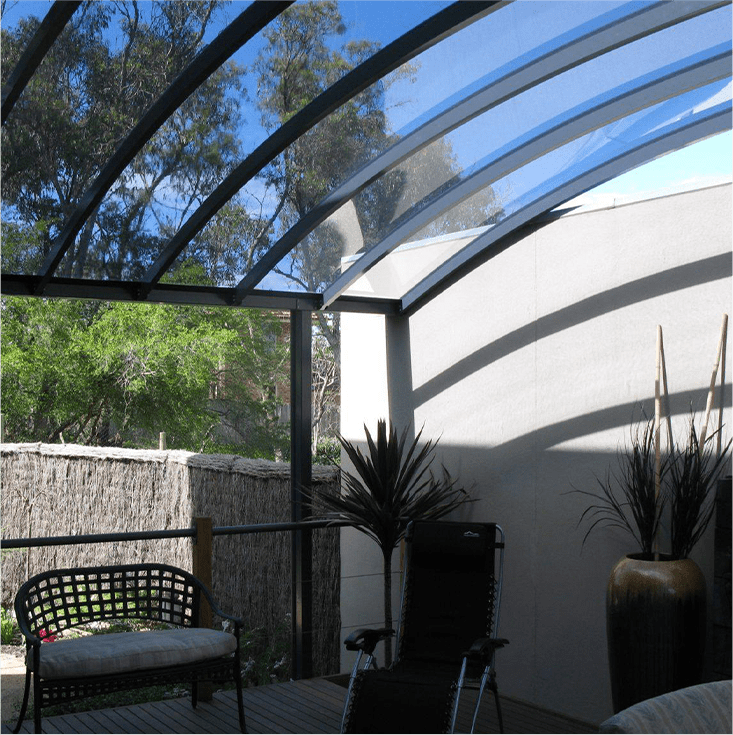 That's why we bring you exceptional options that lead the home improvement market such as –
Colorbond Steel: 100% Australian made Colorbond steel won't twist, warp, chip, or peel. It also can't be eaten by termites. We offer awnings made from Colorbond Steel with a range of options for customisability, from roof wave profile to colour. Available in flat, slanted, gable and Dutch gable.
Insulated Roof Panels: These panels are specially designed to provide insulation for your patio, balcony, or deck. You get a coloured rooftop, insulation foam and ceiling in one solution that our builders can customise further for you with fans, lighting, etc. Available flat only.
Polycarbonate Roofing: Looking a lot like glass, polycarbonate awnings offer the benefit of open access to sunshine but without the heat and UV radiation. With polycarbonate's weather resistance, you don't need to worry about it in rain, wind, hail, or extreme temperatures. Available in flat, slanted, and dome. Colour tint and opacity options also available.
Enquire now for awnings in Sydney today!
Austek Home Improvements was started to give customers a more personalised yet professional service and has been supplying and installing quality home improvements for 30 years.
Do you have to pay for a quote?
No, Austek is proud to quote on your job and offer free no obligation quotes.
Do you need council permit or planning approval for my project?
Depends many minor projects may not require council approval and planning permits because they come under exempt developments section" in the law, however, they need to comply with specific guidelines though, anything outside this will require a Council permit and planning approvals. Our certified staff will arrange all the required paperwork right through to the final inspection.
Where can I get more information about planning?
You can go online to the NSW Government planning & environment webpage
Where do you source your premium materials from?
We source our premium materials from trusted manufacturers who back their products with Manufacturers warranties and we use only Premium Australian Material.
When can you start the project?
If planning permit required, the drafting and application process can take roughly 2-3 weeks and council permits are a bit longer from 6-8 weeks to assess the application and make a decision.
What are the warranties available?
Under the Home Building Act is a list of statutory warranties all our building and renovation work are covered by. We source our materials from trusted manufacturers who back their products with Manufacturers warranties and comply to Australian Standards.
How Long will it take to have my Awning installed?
This all depends on the purchased product – From quote to delivery & fitting may take between 2-4 weeks, schedules will be made available to all clients upon purchasing.
What is the best material for outdoor awnings?
Acrylic fibre is the best material for outdoor awnings in Sydney. They have great insulation from heat, are water repellent and have long lasting colours even with daily exposure to UV rays. The fibre is dyed all the way through and treated with special coatings to ensure they have these properties.
What are the best awnings for outdoor areas?
The best outdoor awnings are undeniably the ones that you can adjust and retract. Retractable awnings allow you the freedom of controlling the shade, light and temperature over your patio and windows. Elsewise, we recommend you consider the space, location and furniture you want to set up awnings over when you are considering what awnings to go for. You can call our specialists on 1300 765 895 to talk more about your needs and requirements, as well as what styles appeal to you. They are happy to visit the premises and measure the area of installation to provide you a free quote.
What are the different types of outdoor awnings?
Outdoor awnings can be stationery, retractable, adjustable and be made from cloth or metal. Stationery awnings don't move, while retractable can pull in and out, while adjustable outdoor awnings can tilt and possibly also retract. Austek Home Improvements has an array of outdoor awnings in all these models, with awnings with manual and motorised retraction. We also have dome, circular, shelf, and convex stationery awning styles available in stationery awning styles.
Can outdoor blinds be motorised with remote control?
Yes, outdoor blinds in Sydney can be motorised with a remote control. Of course, you need to make sure that you implement the correct model in order to do this. Motorised awning blinds provide a stylish and convenient way to adjust the shades, that will get your friends and neighbours talking.