Elegant Polycarbonate Roofing In Sydney
Austek Home Improvements can handle the installation of Polycarbonate Roofing in your Sydney home which will block out 99.9% UV rays & heat. Whether using a traditional corrugated profile or multi-layer flat profile in the market, your family will benefit from high-quality and low maintenance glazing material that performs exceptionally well in the harsh Australian climatic conditions.
Polycarbonate roofing has been increasing popular in Sydney, and there are a lot of reasons why. Polycarbonate is a material that can look a lot like glass because of its smoothness and high levels of transparency, but while the material allows light to pass through, it blocks UV and heat out. Polycarbonates make the perfect roof for your pergola, carport or patio for those enjoy the outdoors and the natural light of the sun but not the headaches or sunburns it can give.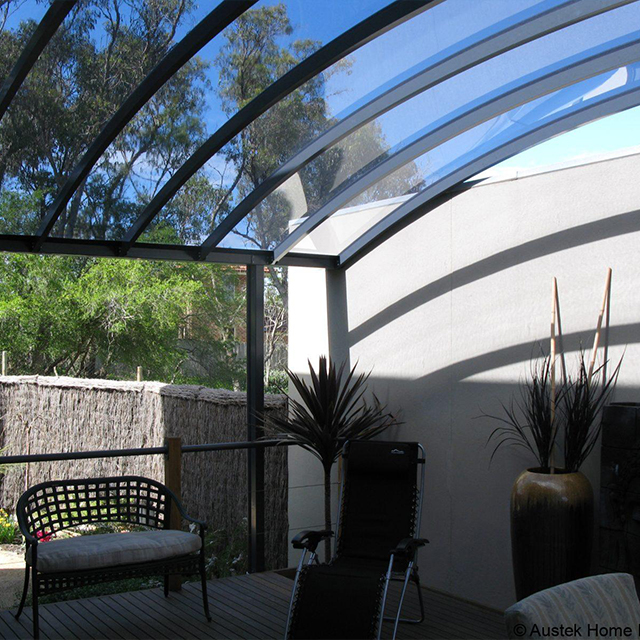 Features of Polycarbonate Roofing
Wide climate suitability
Austek Home Improvements are some of the most experienced contractors in Sydney. We install polycarbonate roofing which is suitable in bushfire zones BAL19 and below. It is flame-resistant, self-extinguishing, 250 times stronger than glass, prevents the spread of fire and develops minimal smoke.
Domestic and commercial purposes
We can fit and supply a wide range of Polycarbonate Products for Patio and Carport Roofing, all around Sydney for both domestic and commercial projects at reasonable prices. Residential polycarbonate solutions are popular for Patios, Carports, and Decks where you want a lot of natural light to stream through, without letting the heat in. We also provide Polycarbonate Solutions for Commercial Projects that include Mine sites, Architectural projects, or Skylights in a warehouse.
Strong and Weatherproof
We supply polycarbonate patio and carport roofing that is made from durable materials, are resistant to harsh and corrosive elements and are therefore popular for seaside dwellings and workplaces.
Cold location suitability
If you live in a colder area, clear polycarbonate roofing options will suit your needs perfectly. These clear polycarbonate roofing solutions, help you achieve natural illumination and allow more heat to enter the house to keep you warm.
Easy to install and maintain
Polycarbonate roofing is surprisingly easy to install. It also doesn't take too much to maintain it. They are also rust resistant, so you don't have to worry about having to deal with this type of problem with your roofing. Polycarbonate patio roofing looks beautiful and exercises the best durability when they are cleaned every now and then.
Sunroom | Create a cool and pleasant 'greenhouse' on a budget
By creating a patio enclosure with polycarbonate panels and long windows, you can achieve the look of a greenhouse in what will feel like another adjoined room to your house. This makes a great space to store all different types of potted plants, and can be an area that you dedicate to tea times, brunch, entertainment dining, or just a good place to be alone, garden and read. You can also enclose a patio area further away in your yard to create a quieter and more isolated greenhouse, that will really make the feeling of solace you get from it more fulfilling.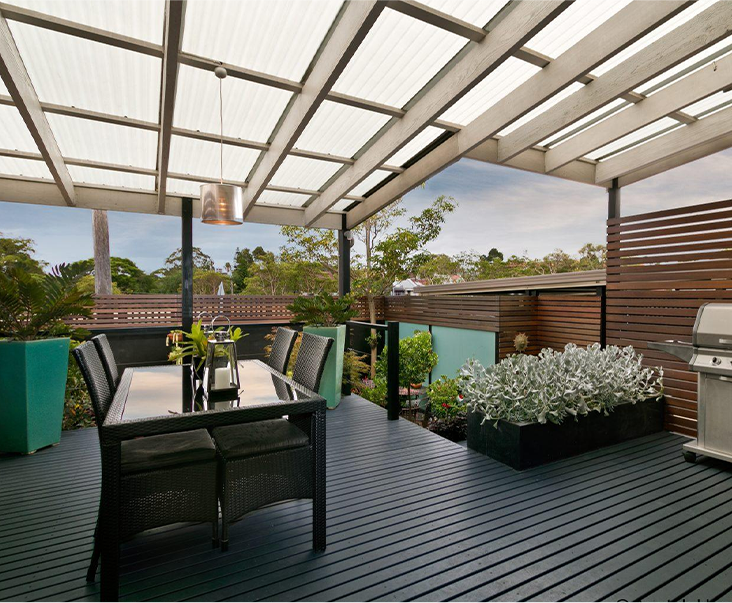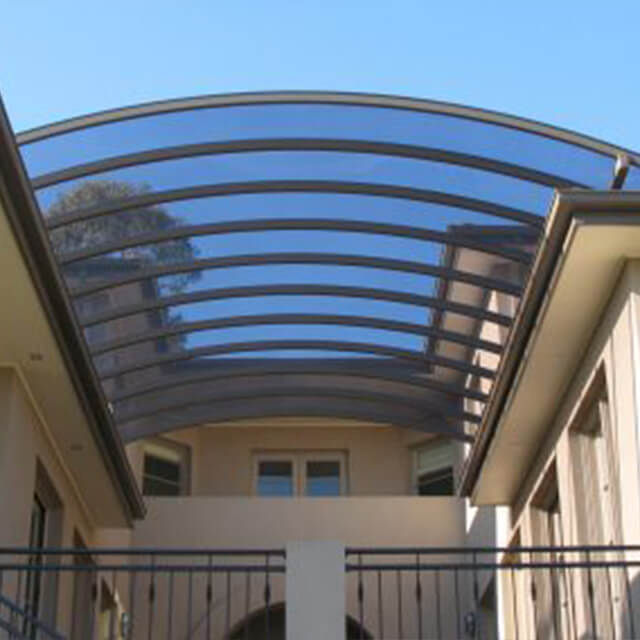 Solasafe Polycarbonate Sheets & Levels of Light
We have three distinctly different levels of sheeting available at Austek Home Improvement for your patio roof. These levels define the different amounts of natural light, heat reduction or heat transfer that the sheets have. These levels are:
The first level provides the highest level of light, available in 5 colours.
The second provide the best balance between light and heat, in several cooler colours.
The last level of polycarbonate is the most excellent in heat reduction.
To better understand what level sheet and style roofing is suitable for your patio, pergola, carport or awning, it is best if you talk to one of our experts, which you can on 1300 765 895. They will be able to properly discuss the requirements of your location and application, to allocate the best polycarbonate roofing solution in Sydney for you.
Austek Home Improvements was started to give customers a more personalised yet professional service and has been supplying and installing quality home improvements for 30 years.
Your Partner in Polycarbonate Roofing in Sydney | Austek Home Improvements
We can install polycarbonate roofing all across Sydney for both Commercial & Residential Projects. We will be happy to assist you in choosing the best Polycarbonate Roofing product to custom match your requirements. We have a team of experts with craftsmanship second to none and look forward to helping you over the phone/email or in person too, in the comfort of your home.
With more than 30 years of building experience, we are proud to provide a quote on your job, as we know what would work the best for your property and your needs.
What are the main services you offer?
Roof restoration, roof replacement
Do you have to pay for a quote?
No, Austek is proud to quote on your job and offer free no obligation quotes.
Is Polycarbonate Roofing suitable for bushfire zones?
Yes. Polycarbonate roofing is suitable for bushfire zones BAL19 and below, it is flame-resistant, self-extinguishing, stops the spread of flame.
Can I use multiwall polycarbonate sheets as a skylight combined with a metal roof?
Yes, glazing solutions can be used on polycarbonate roofing to use them as a skylight metal roof. Our range of polycarbonate roofing in Sydney is highly versatile and can be modified as per your requirement.
How do I clean the polycarbonate?
The polycarbonate roofing in Sydney is very easy to clean and maintain. It does not require much effort to clean the yellowed polycarbonate roofing. You can just rinse the roofing with mild soap and lukewarm water to get a flawless sheen.