Insulated Patio Roof Panels
Your patio is already the perfect space to enjoy outdoor fun with your family and friends. Make it even better, with the comfort and elegance of insulated patio roof panels. Austek Home Improvements offer a complete service from conception to implementation to assist you in making invaluable changes to your home.
Insulated patio roof panels offer a beautiful and effective rooftop for your outdoors to shield you from the sun. They offer a very reasonable investment for the prices. Each panel is built as a compact all-in-one solution for installing a patio rooftop. Providing you with the features of a proper roof, ceiling and inner insulative solution in just one product. It's the perfect resource to make home improvements on your backyard.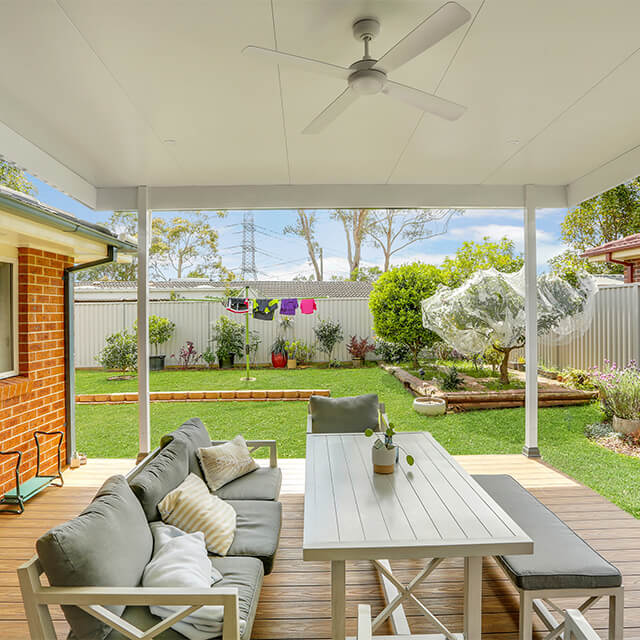 At Austek, we also bring you the benefit of high-quality insulated patio roof panels at a highly competitive cost!
Expert Builders: Over 30 years of experience in home improvements in NSW.
High Quality Materials:We only ever use the highest quality materials behind all our designs and builds for our clients.
A Personalised Service: We are always devoted to offering you a service that is personal and customised to you. While there are many similarities between homeowners, we know that no homeowner or home is ever the same. Therefore, we always take the time to understand the insulated rooftop you are after, to give you the results you have been waiting for.
Insulate Your Patio
As you may have already guessed, insulated patio roof panels are specially designed for insulation. Our insulated patio roof panels are made in polystyrene foam core and available in different thicknesses to deliver on your desired insulation rating. The many air bubbles in the foam help break up the heat and create a barrier to ward off extreme heat in the hotter months of Summer. Furthermore, this barrier also works the other way to retain a comfortable level of heat for your patio. Giving you a great solution for a comfortable patio, even in autumn and winter!
Our insulated roof panels are remarkably known in Sydney for their:
1. Superior Comfort | Climate Control
Austek Home Improvements insulated patio roof panels for sale provide superior comfort throughout the year with cooler summers and warmer winters. They provide great shelter against the sun's strong rays, as well as wind and rain. Keeping you dry and out of the direct lines of harsh UV. Our Colorbond structural insulated roof panels also reduce the sound and movement resulting from wind, rain, hail and storms. Insulated roof panels also dramatically reduce construction times and site mess for a simpler, and more streamlined installation process.
Keeps you cool in summer and warm in winter
Shields you from sun and rain
Reduces noise and movement from wind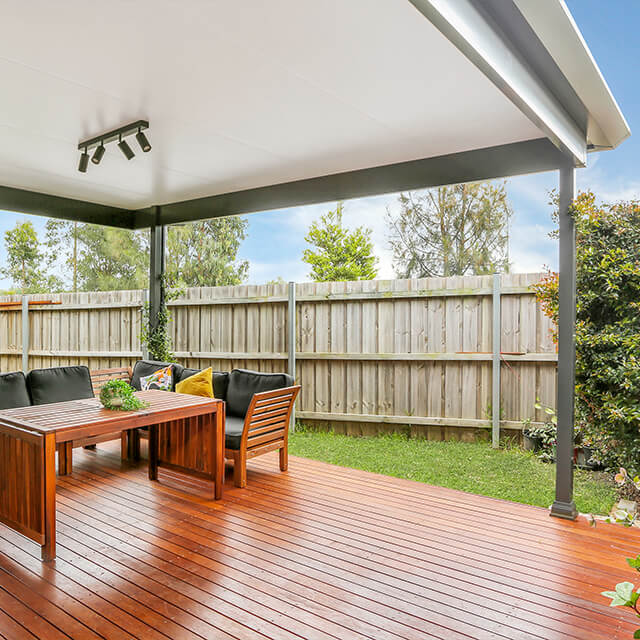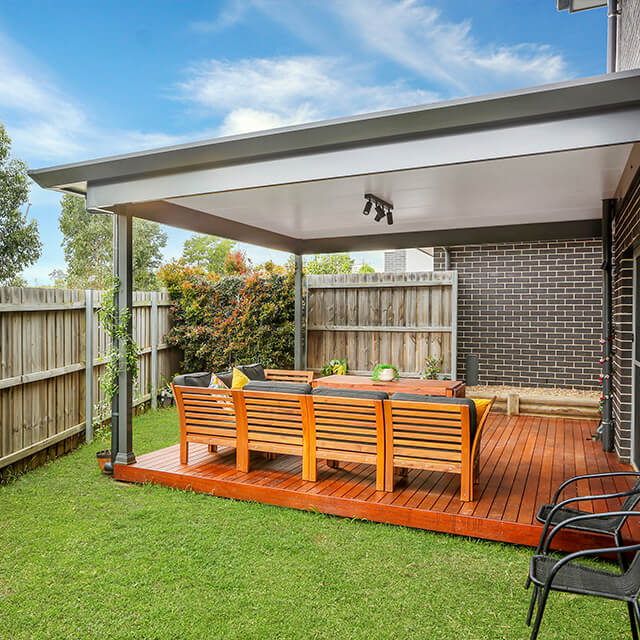 2. Possibilities in Design | Custom Insulated Roof Panels in Sydney
Austek Home Improvements insulated and metal roof panels come in various colorbond and insulation thicknesses at a reasonable price for all types of applications. In addition, they come in a wide range of different colours with various shades of red, brown, green, blue, grey, cream, white and black at your disposal, as well as different roofing surface profiles. This great design flexibility allows you the freedom of choice and design when it comes to insulated roof sheets. It also allows us to offer a solution tailored to you when you are looking for a patio or pergola roofing, for a style that matches well with your house's exterior style.
A vast amount of choices in colour
Different roofing profile options to consider
A selection of different thicknesses to fit different requirements
Austek Home Improvements was started to give customers a more personalised yet professional service and has been supplying and installing quality home improvements for 30 years.
3. High Quality, Clean Innovation and Design | Colorbond Insulated Roof Panels
Colorbond insulated roof panels provide a smooth seamless and all in one solution, holding roofing, insulation and ceiling all in one product. Austek Home Improvements insulated and metal panels come in wide coverage to minimise unsightly joints and with as low as one degree fall on roofing, this really gives you the ceiling-like appearance for your new alfresco area or pergola you'll be happy to show off this summer or even cosy entertaining in the middle of winter. It easily hides away cabling and wires, so you can achieve drop lights in your panels without seeing any unsightly electrical evidence. Gone are the days of seeing cables, aluminium or mess, hello smooth white ceiling that looks as good as that in your house - ditto to the walls.
What is the best insulation for a metal roof?
There are many forms of insulation for roofs out there, but it's really hard to beat insulated roof panels in Sydney. In these panels, both the roofing and the insulation is included for a comprehensive all in one solution: with all the benefits of a metal roof and insulation. It is an ideal choice if you are looking for a roof for your patio, veranda or pergola.
Alternatively, if you already have roofing installed already, spray foam makes a popular option for metal roof insulation. It does cost more than fibreglass batts, but it is very effective in keeping out rodents and preventing condensation and all the problems that come with it, like weak walls and mould. Fibreglass batts is known as a cheap alternative if you are worried about costs. Although fibreglass is very versatile and can be cut to size, it's dangerous to use and should only be installed by a professional.
How do you install downlights in insulated roof panels?
"To install downlights in your insulated roof panel in Sydney you are going to need a hole saw facing drill, a pocket knife and possibly a long length drill bit.
1. Use your hole saw facing drill on the bottom face of the panel to cut out a precise hole for the light socket to fit into. You can either place the light close to a side end of the panel or in the middle.
2. Use the pocket knife to cut out a hole to thread the cables from the light to the channel you drilled out if the light is placed in the middle, or to thread down the side grooves of the insulation foam otherwise. You may also need to use the pocket knife to cut out some extra areas in the light socket hole to make the fixture fit, for example the clips.
3. Special note: If you want to put a light in the middle, you are also going to need a long drill bit in order to cut out an empty channel to run the cable of the light through.
4. You are good to fit the new light/s in!
If you have any doubt at all about your ability to do this, don't risk jeopardising your new insulated roof panels. At Austek Home Improvements, we provide a holistic service and can send out a professional team to properly customise, outfit and install your insulated roof panels."
Is it better to insulate the ceiling or roof?
It is usually highly recommended to insulate your ceilings, just as it is easier to do. This is unless you have a cathedral or vaulted ceiling, in which case you will not have an attic area to access and thus need to insulate the roof. However, our insulated roof panels in Sydney make roof insulation so much easier to accomplish. Roof insulation has a great advantage in controlling the temperature effectively in your house and reducing the need for air conditioning or heating. Many more people are choosing to use both types of insulation to superpower the insulation of their home, especially in uncomfortable climate areas.
Which types of insulated roof panels are the best?
Insulated roof panels in Sydney come in many styles. Besides thickness, the differences they boast more have to do with their various distinctive aesthetic values. Their varying thickness is the determining factor to how effective they are at insulation. So, to answer the question; the best insulated roof panel for your patio or any other purpose needs to be figured out on a one-on-one basis. You can call 1300 765 895 today for a free quote and we can talk about the space you want to install these panels and what kind of look you are after. Our team is highly professional and experienced, they will help you figure out what the best insulated roof panel would be for your individual requirements.
What are the benefits of installing Colorbond insulated roof panels?
COLORBOND® Coolmax® steel was specially engineered and designed to deliver a high rate of solar reflection. As such, it reflects 77% of the sun's heat, helping you keep your house in Sydney cooler especially during the hotter months. Combined with its internal insulation, Colorbond insulated roof panels make a dynamically competitive roofing on today's market for their effectiveness. Helping you and your family keep comfortable and saving money off your air conditioning and heating costs.
What is the best insulation for roofs?
Batts or foam spray make a great option if you are looking to insulate an old roof. But you should also consider roof insulation panels in Sydney. Innovatively, combining the different components of roof, insulation and ceiling together, they make the building process easier and more hassle free. The results are stunning in any application type or style also, which is why we believe insulated patio roof panels have grown so popular in Sydney.
How much does a patio cover cost
The cost of a patio cover depends on a few factors, such as material, design and whether a professional is catering to the installation or if you are doing it yourself.
A popular patio cover material, polycarbonate costs between $38 for a 2.4m length. The cheapest Colorbond roofing costs $18 per square metre.
Insulated patio roof panels best combine style, durability and comfort. As an all-in-one roof, ceiling and insulation solution, they are a convenient and cost-effective tool in constructing a new patio. DIY insulated patio roof panels can cost from $1200 to $3600, but custom made, and gabled styles are priced higher. 
Should I get an awning or roof for my patio?
Awnings and insulated roofing for your patio both have their own great value in providing shade and shelter to your patio, and thus making it more livable.
At Austek Home Improvements, our awnings can retract manually or with automated control. This allows you to put up the shade to protect your guests and people inside the home from the sun when it's hot and therefore, reducing the money you spend on cooling. These awnings also allow you to retract and pull them away on cold days for comfortable heat.
Patio roofing has timelessly looked stunning, with an array of styles and colours to blend in with the rest of your home.Our insulated patio roof panels offer a sleek compact insulated shelter that keeps everyone underneath it comfortable.
You can talk with our team for a free discussion for what would work out best for you, on 1300 765 895. Quotes are free.
Are insulated patio covers worth it?
Insulated patio covers cost more than some other systems – there is no doubt about that, but they're also undeniably better. An insulated patio roof gives a clean and modern cover to your outdoor seating areas, that doesn't just look great but keeps the area cool, shaded and dry from leaks. You can also use insulated roof panels to tidy up wires, keeping them concealed and safely out from view.
So if you want to be assured that you are getting the best value for money when you are looking to install a patio cover, you might want to consider opting for an insulated patio cover.
Outdoor spaces can be more problematic to look after already, but with this innovation you can be sure that you're really creating a space that's comfortable and regularly enjoyed.
How far can insulated roof panels span?
Insulated roof panels can be 7.3m long. This makes these panels great for insulated pergola roofing, whether small or large. Insulated roof panels are a great installation, combining roof, insulation, and ceiling all into one unit.
How much does it cost to insulate a pergola roofing?
As there is normally no walking space between the roof or ceiling, insulating a pergola roofing normally requires picking out a roofing material that can insulate and shield against rain and sun all at once. Polycarbonate and Colorbond steel are a popular material for this purpose. At Austek Home Improvements, you can choose between Colorbond panels or polycarbonate for your insulated pergola roofing.