Timber Decking in Sydney
Everyday living is made so much better with a timber deck in your outdoors. Whether to entertain, BBQ, or just provide a great place to take a step outside.
Austek Home Improvements are the expert deck builders in Sydney with over 30 years of experience. We are well equipped to assist you in this endeavour with a service that looks after your decking requirements from start to finish. We are devoted to bringing you the highest quality finish, with native Australian timber species or innovative composite timber decking.
Whatever dream you have for your area outdoors, our builders can look after your timber deck construction project with a service that delivers. Call us now for a deck in Camden, Castle Hill, Liverpool, Northern Beaches or Sutherland Shire.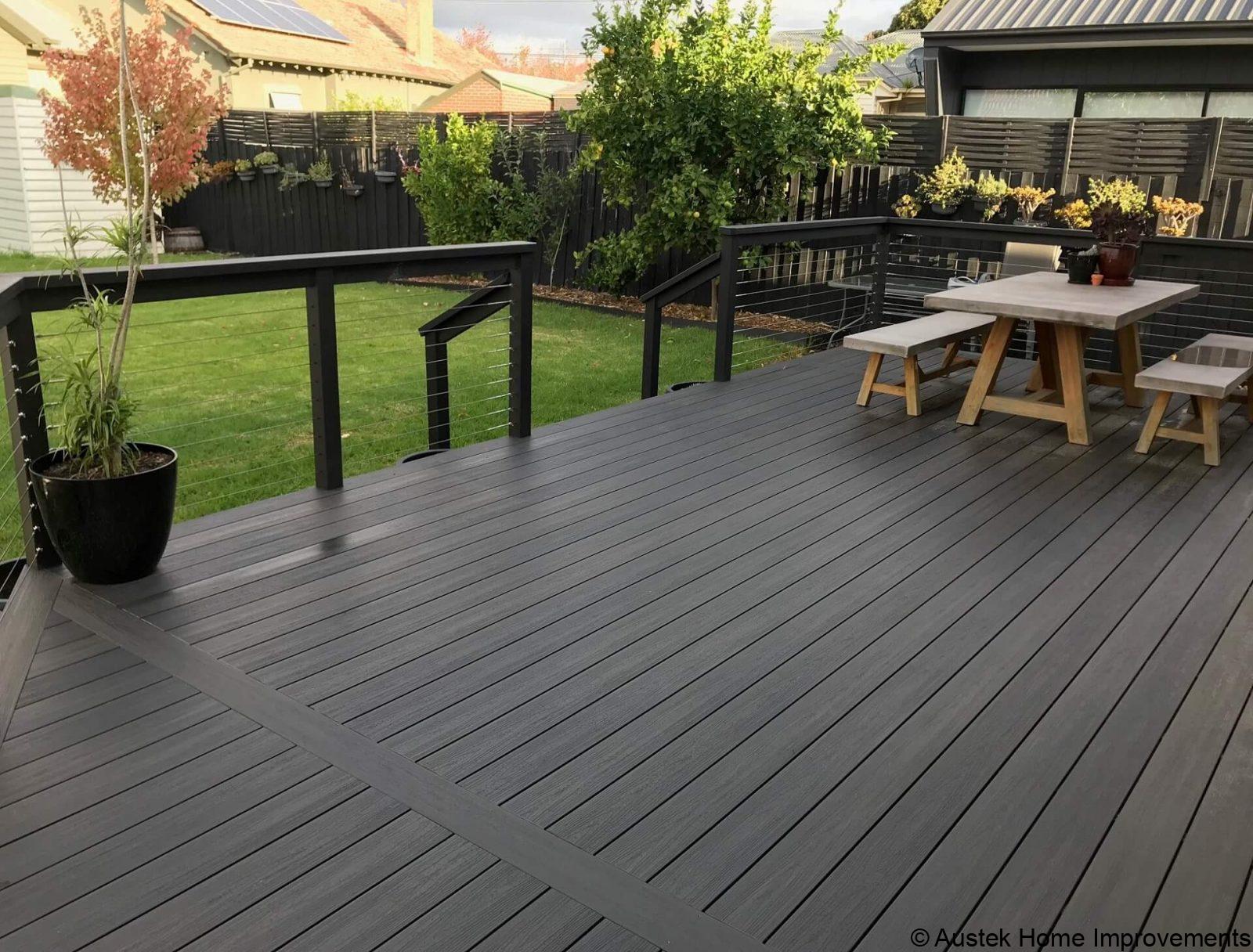 Reasonably priced, for the best value for money.
Master Your Outdoors: Timber Decking
There's so much to love about the Sydney outdoors. With our love for our native trees, flowers, parks and long stretching beaches – there's just so much to see from your backyard! Having a deck allows you to sit and enjoy the sights around your property at an elevated level. All while still being able to enjoy the fresh air and rich sunshine available outside.
Austek Home Improvements understands that everyone has unique needs, therefore we offer onsite quotes. Our experts will come out to your home or business, check site foundations and work with you to understand what you're looking for, we will then compile a quote including a breakdown of all material required.
What does it cost to build a deck?
Timber prices vary depending on what your requirements are and the total size and shape of the project. For instance, a straight deck, stairs, and railing would be a lot cheaper than curved design.
What factors do I need to include in timber deck pricing?
Firstly, site or foundation preparation it may require excavation which means hour charge, or it may already have a solid foundation so no costs would be incurred. Hence the total price depends on how the foundation is prepared.
Materials costs, this could include joists and substructure, railing if needed, decking, nails, and hardware accessories. The material price is the most important factor in timber decking pricing.
Total shape and sizes of the project will make an enormous difference to overall cost. These two together is what determines the materials required and labours charges of your timber deck.
Hardwood decking is a valuable investment. They have a distinctively different look over softwood timber decking, with each hardwood decking timber having its own unique sense of character with their colour, feel and grain. While the price of hardwood decking is notably higher, the difference is also is significant.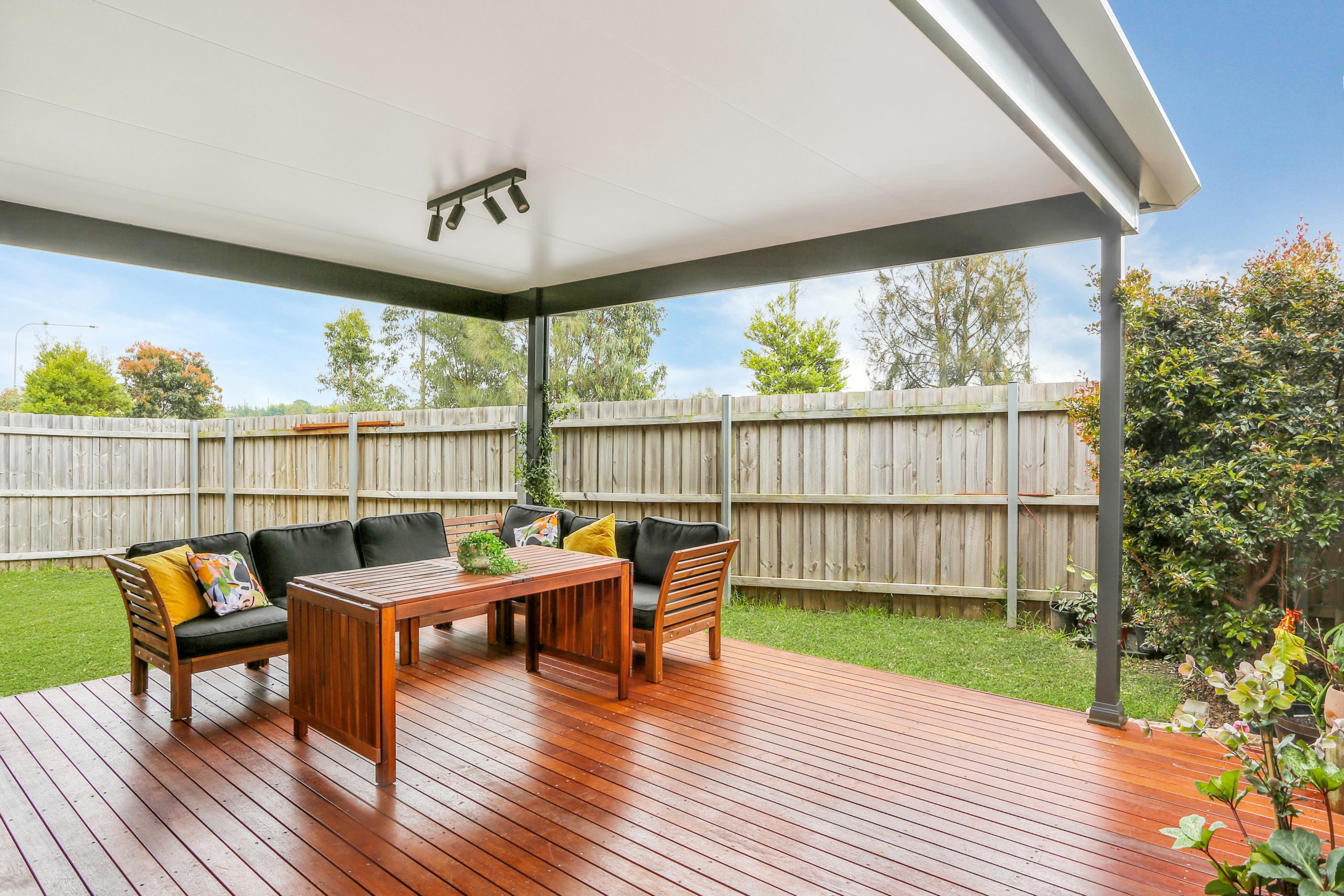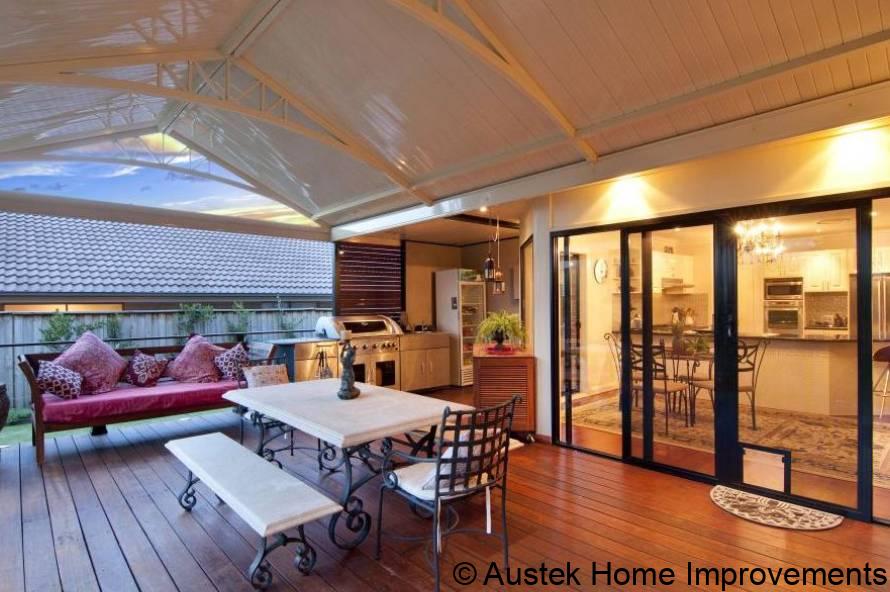 Hardwood decking makes for excellent pool and hot tub surrounds that can act as a more rustic and relaxed alternative to concrete paving or pavers. You can also avail Austek Home Improvement services to extend a deck, create elegant walkways through your backyard or create a specialised custom deck for a cosy sunken lounge structure.
Austek Home Improvements are specialists in timber decking with over 30 years of experience in this field, looking after different types of outdoor home improvement. You can also install some form of roofing whether from a pergola, awnings or extending your roof with an insulated roof panel to better preserve the wood and keep those using it properly shaded.We can talk you through some more suggestions to help you get the most out of your deck.
In Australia, we are lucky to have vast amounts of timber species to select from. These include Spotted Gum, Ironbark, Jarrah, Silver top Ash, and Blackbutt. They all provide various levels of durability and will create a unique looking hardwood decking timber solution for years to come if they are professionally installed and maintained on a regular basis.
Austek Home Improvements was started to give customers a more personalised yet professional service and has been supplying and installing quality home improvements for 30 years.
Do you have to pay for a quote?
No, Austek is proud to quote on your job and offer free no obligation quotes.
Do you need council permit or planning approval for my project?
Depends many minor projects may not require council approval and planning permits because they come under exempt developments section" in the law, however, they need to comply with specific guidelines though, anything outside this will require a Council permit and planning approvals. Our certified staff will arrange all the required paperwork right through to the final inspection.
Where can I get more information about planning?
You can go online to the NSW Government planning & environment webpage
Where do you source your premium materials from?
We source our premium materials from trusted manufacturers who back their products with Manufacturers warranties and we use only Premium Australian Material.
When can you start the project?
If planning permit required, the drafting and application process can take roughly 2-3 weeks and council permits are a bit longer from 6-8 weeks to assess the application and make a decision.
Can we build a deck on a property that is prone to Bushfires?
Yes. Bushfire prone properties are to be assessed for their Bushfire Attack Level (BAL). This BAL is what determines the types of premium materials that can be used for the building project so that it complies with the relevant Australian Standards (AS).
What are the warranties available?
Under the Home Building Act is a list of statutory warranties all our building and renovation work are covered by. We source our materials from trusted manufacturers who back their products with Manufacturers warranties and comply to Australian Standards.
What size boards are best for decking?
You can use 2×4, 2×6, 4×6, or 5/4×6 deck boards for your decking. The most popular size boards for timber decking in Sydney at the moment are 2×4 and 5/4×6. While wide deck boards are trendy, it is important to note that there is more of a cost that goes in with the materials needed to join them together and attention to care needed. Therefore, wide deck boards won't save you from more work compared to thinner deck boards.
How to choose the right timber decking services in Sydney?
To select the right timber decking services in Sydney it is important to keep these things in mind: reliability, quality and price. In order to properly compare providers, look through the galleries of decking service providers to see if you like the decks that they build. Also look up reviews left behind by their past clients. Most companies provide free quotes, but you should also check that they do beforehand to save yourself the pain if that is not the case. Many companies are also happy to provide you with testimonies from past clients.
Once you are done researching and comparing these factors, you will be able to make a decision on a timber decking service provider that offers you the best value for money.
At Austek Home Improvements, quotes are free and we're happy to provide you with testimonies from past customers. We're also happy to make suggestions and help guide you in getting out the best of your new deck. 
What is the best wood to use for outdoor decking?
Hardwood timbers make the best outdoor decking, with the perfect balance of beauty, strength and long life.Jarrah is an Australian native hardwood that has become the gold choice for many Australians for its beautiful vibrant colour. Additionally, it is also remarkably durable and fire resistant. However, as it is a highly sought timber decking in Sydney, it is also often more expensive.
We also have a range of other attractive hardwood options to choose from, as well as treated pine which is popular for those looking for an affordable choice.
You can contact Austek Home Improvement for more information on your options for timber decking in Sydney, on 1300 765 895.
Do patios increase home value?
It's important to not overlook your outdoors when you are looking to increase value in the house before you put it on the market. A stylish and comfortable looking patio is a great way to have potential buyers in an inspection saying 'wow' and leaving with the property well on their mind. A patio deck adds a new space for families to enjoy alfresco dining, and morning or evening tea.
What is the difference between a patio and deck?
While both are outdoors, a patio is an area that sits on the ground that is paved and can be either attached or separate from the house. On the other hand, a patio deck is on a platform whether it's on an open porch or a raised platform in your garden.
Is it better to have a deck or patio?
If you have uneven terrain and are looking to create an outdoor sitting and lounging space then a deck or patio deck is a must. As it is on a platform, it can be used to give you an even surface for alfresco dining and outdoor lounging. However, you can otherwise work out the best option for you based on your budget, the makeup of your land and what you desire out of an additional outdoor area.
Decks are great for those who want a view anda higher percentage of returns on average. However, patios cost more, don't require a lot of maintenance, usually last much longer and offer more privacy as its lower on the ground.