Polycarbonate Awnings In Sydney
At Austek Home Improvements, our polycarbonate awnings have become a popular choice with many homes and businesses across Sydney. Polycarbonate awnings can be used for doors, windows and patios to keep the area underneath cool, shaded and dry, and uniquely well-lit. It is due to their durability and minimal maintenance not to mention perfect protection from the weather, that make them the perfect addition to any property in Sydney. They look amazing and the sheets come in a range of designs and colours.
Polycarbonate has a similar appearance to glass and can come in different coloured tints or levels of transparency. However, it blocks out UV rays and heat, allowing outdoor areas and heat entry areas in the house to be properly illuminated while remaining cool. Polycarbonate is also a material that is extraordinarily strong and has even been used in bulletproof applications; it is 250 times tougher than glass. All in all, polycarbonate awnings make a durable, clear and weatherproof awning that allows you to enjoy the sun without the heat and sun damage.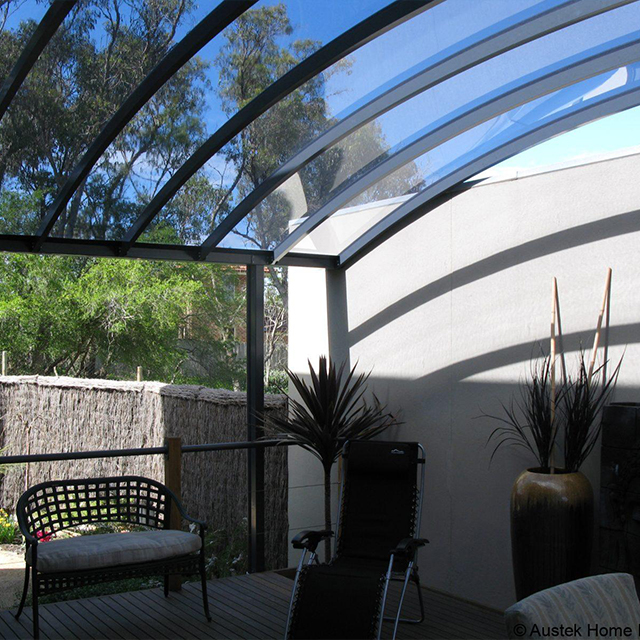 Polycarbonate awnings for windows
Features and benefits
Blocks UV - Polycarbonate blocks out 99.9% of UV rays. Natural illumination - Polycarbonate awnings can come in different levels of transparency to let natural light come into the area.
Natural illumination - Polycarbonate awnings can come in different levels of transparency to let natural light come into the area.
Rust and Ozone resistant - Door or Window polycarbonate awnings structures have been designed to be rust and weather resistant.
Withstands extreme weather - Polycarbonate awnings have been crafted to tolerate extreme impacts, storms including hail and strong winds. It is also flame resistant and self-extinguishing.
Easily install and forget - They are easy to install and require little to no maintenance.
A range of applications - Polycarbonate has been designed to withstand a range of window door and roofing applications, these applications include skylights, roof panels, patio and sunroom roofing, pergola walls and roofing.
Customisable– You can have them custom made to meet all window and door requirements.
Affordability - given polycarbonate doesn't require the manufacturing level of say, glass, its manufacture price point enables us to pass the savings onto you.
Polycarbonate awnings for windows
As these awnings let in light but block UV and heat, they are an effective application for windowed areas in your house that are dark or often rely on the natural light but also easily get hot. By facilitating a cover that doesn't get in the way of the light but filters out the heat and harmful UV rays, you can keep your house cool during the hotter months and best save money off your energy bills. Polycarbonate sheeting make a great choice of awnings for store windows, as it keeps your business well-lit but comfortable.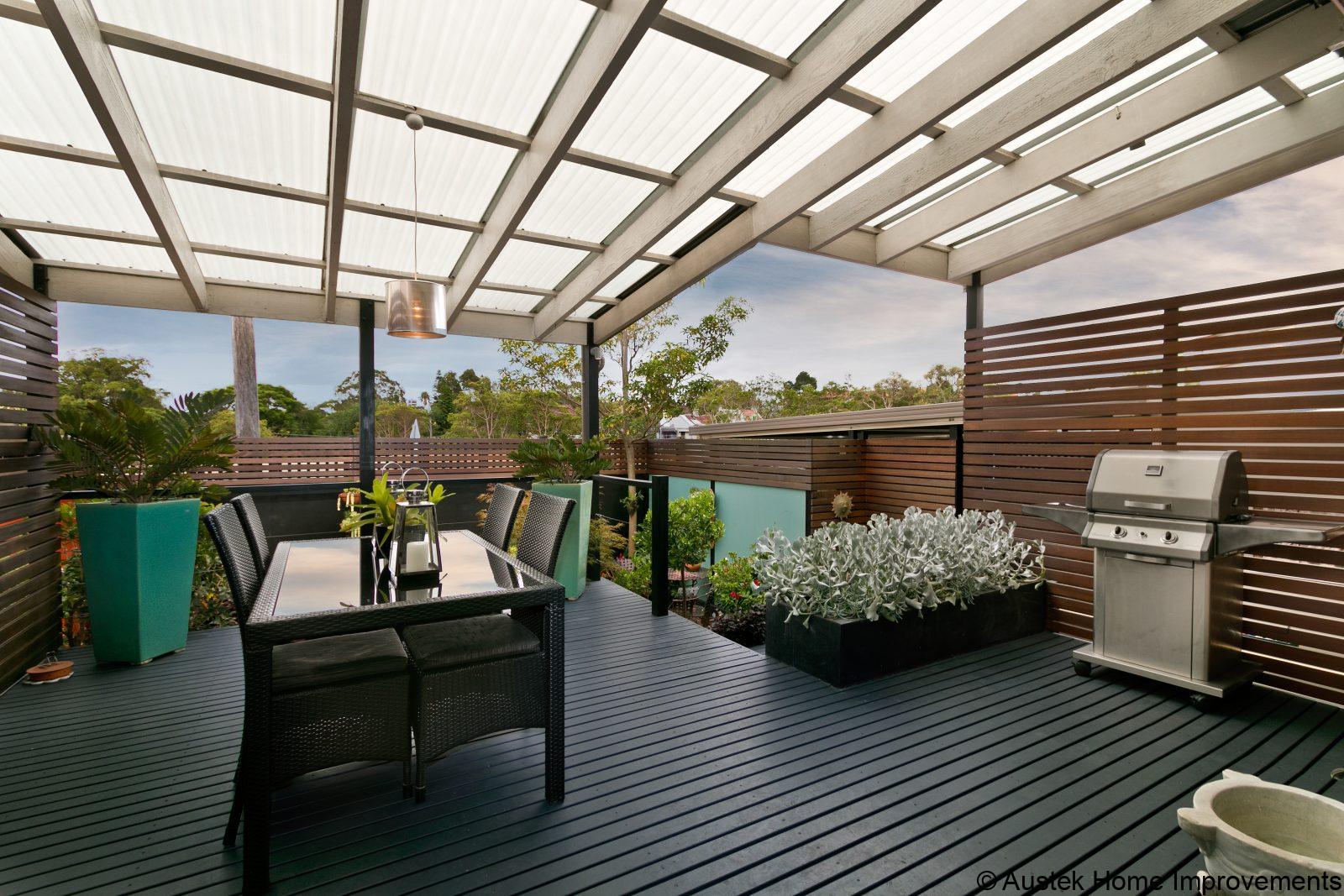 Austek Home Improvements was started to give customers a more personalised yet professional service and has been supplying and installing quality home improvements for 30 years.
Do you have to pay for a quote?
No, Austek is proud to quote on your job and offer free no obligation quotes.
Do you need council permit or planning approval for my project?
Depends many minor projects may not require council approval and planning permits because they come under exempt developments section" in the law, however, they need to comply with specific guidelines though, anything outside this will require a Council permit and planning approvals. Our certified staff will arrange all the required paperwork right through to the final inspection.
Where can I get more information about planning?
You can go online to the NSW Government planning & environment webpage
Where do you source your premium materials from?
We source our premium materials from trusted manufacturers who back their products with Manufacturers warranties and we use only Premium Australian Material.
When can you start the project?
If planning permit required, the drafting and application process can take roughly 2-3 weeks and council permits are a bit longer from 6-8 weeks to assess the application and make a decision.
What are the warranties available?
Under the Home Building Act is a list of statutory warranties all our building and renovation work are covered by. We source our materials from trusted manufacturers who back their products with Manufacturers warranties and comply to Australian Standards.
How Long will it take to have my Awning installed?
This all depends on the purchased product – From quote to delivery & fitting may take between 2-4 weeks, schedules will be made available to all clients upon purchasing.
What is polycarbonate awning?
Polycarbonate awnings are made of an aluminium frame with a polycarbonate roof panel. These awnings are a great alternative to glass awnings. They let in more light than other types of awnings and can be made opaque for a bit of added dimness and more impressive heat blocking. Polycarbonate awnings are a stylish modern option that adds value to the space.
What are the pros and cons of polycarbonate awning?
The pros of polycarbonate awnings are:
1. Temperature resistant – this material is highly resistant to heat and cold
2. Strong and durable – its unbreakable strength lends it as a material commonly used in bulletproof applications
3. Blocks UV – provides you nice natural light while blocking harmful UV rays
4. Lightweight – easier to deliver to your location and to install over decks
5. Low Maintenance – only requires cleaning to keep them attractive and protect them from scratches
The cons of polycarbonate awnings are:
1. Expensive – it is quite expensive compared to glass or plastic
2. Not eco friendly – this material requires several chemicals and high heat to produce
Prices of Polycarbonate Awnings – Is it Worth it?
Polycarbonate awnings are highly sought, but also expensive. A small polycarbonate awning just shy of 1m can easily cost you $100. They do however provide a lot of benefits that other awnings don't such as effective insulation, natural light and blocking UV. They are also incredibly known for their strength and how long they can last. Therefore, if you are working on putting together a stylish modern or contemporary home that you can really enjoy, a polycarbonate awning is an investment you might want to consider.